Houston residential moving services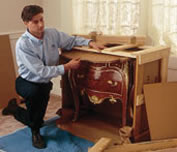 Houston residential moving services from Specialized Movers means you'll have a dependable mover whether you're relocating to another country, another state or locally. We're here to make your experience as pleasant as we can, using all the resources at our command and all the experience we've gained since 1979.
Our goal is to exceed your expectations with the personal attention that makes "going home" feel as natural as it should. The first step in moving is choosing Specialized Movers. From there, it only gets easier. We promise service. And we keep our promises.
Our reputation is based on the satisfaction of our customers. Every day, we strengthen our reputation by staying true to the fundamentals they identify with us: integrity, quality and solutions. Our investments in people, equipment and systems reflect our commitment to being the first and best choice for service.
With our Houston residential moving services, we put all of our resources behind every move for every customer. Ultimately, we want to earn your trust. We hope you'll find it reassuring to know that we are nearby and ready to serve you when you need us.