UNPACKING TIPS FOR HOUSTON MOVERS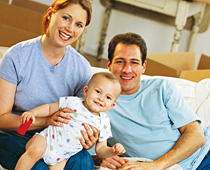 We've compiled some valuable unpacking tips for Houston Movers. Unpacking is the first step towards settling into your new office. If you don't do it right though, you'll quickly find yourself knee-deep in a jungle of newspaper, bubble wrap, and empty boxes. As long-time Houston movers, we know how hectic unpacking can get. In addition to a positive attitude, there are a few general rules you should follow when unpacking.
A FEW THINGS YOU SHOULD DO WHILE YOU ARE UNPACKING IN HOUSTON:
Do take the time to decide what furniture goes where. Too often have we unloaded furniture into an office with the client still not knowing what room it should go in. Decide where your big pieces of furniture should go before the movers start unloading. That way, the movers can place your furniture approximately where you want it so you don't need to move it too much later!
Do unpack the vital items the first day. This should be easy if your boxes are clearly labeled and your new location has a sufficient amount of storage space. If you're lacking in the storage or filing cabinets though, make sure to pull out only the essential items; you want to have the supplies you need to begin working quickly without having clutter or confusion.
A few things you shouldn't do while you are unpacking:
Don't assemble furniture before you know exactly where you want it. Not only does it add a lot of Styrofoam to the clutter, but it can also make it hard to maneuver around while you continue to unpack. Moreover, assembled furniture is harder to move and may not fit in the doorway, so save yourself the grief and plan ahead!
Don't wait until the end to clean whether you're using a cleaning service or having employees do it, Make sure you throw away (or recycle!) newspaper and bubble wrap as you go. This will keep the mess under control and help you avoid losing things in the clutter.
Following these unpacking tips for Houston mover will minimize down-time and help allow your business to be fully functioning as quickly as possible. Call us at Specialized Movers to learn more.