AN EXPERIENCED INTERNATIONAL MOVING COMPANY IN HOUSTON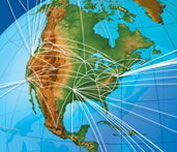 Looking for an experienced international moving company in Houston? Specialized Movers has been providing cost-efficient and reliable international relocation services for over 50 years. Utilizing our global network of Atlas moving experts, we are able to effectively coordinate moves anywhere in the world. Trusted by corporations and governments alike, we use our connections with various local businesses to ensure that transferees and their families can properly settle in to their new home and community.
THE SPECIALIZED MOVERS ADVANTAGE
Moving overseas can be difficult, but the move itself doesn't need to be. The advantage of choosing Specialized Movers as your professional international moving company is our extensive knowledge of the rules and regulations for relocating to a specific country. Our team of experienced relocation coordinators takes a hands-on approach when planning and executing any move. By partnering with only the most trusted names in moving, we can guarantee that your belongings will arrive to the destination country safely and in a timely manner.
By dealing directly with an experienced international moving company in Houston, companies and individuals alike avoid the confusion, delays, and up-charges that are so common with unreliable foreign moving services.
Save yourself the hours of research and months of coordination by choosing a reputable international moving service to handle your international moving and relocation needs. Contact us today for a consultation and free quote.