MOVING WITH KIDS IN HOUSTON: 5
STRESS-REDUCING TIPS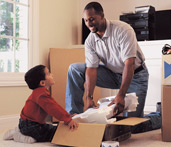 When moving with kids in Houston or anywhere there are 5 stress-reducing tips to prevent the pressure of relocating from quickly turning into dread. As professional movers, we at Specialized Movers learned what makes a move easy for kids, and what makes a move stressful. Here are a few tips that will make your family breathe a little easier throughout the process.
1) Move When the Time is Right
Timing is everything when it comes to a major move,. It's important to take your kid's academic and social life into serious consideration before relocating. A move across town could mean switch schools, losing friends, dropping out of sports teams. If possible, try not to move in the middle of the academic year or right before any major milestones, such as prom or graduation. Also, remember to take into account the amount of time it takes to get settled into a house and neighborhood. Moving during the summer is ideal because it does not interfere with school and allows the kids plenty of time to get settled into their new surroundings before school starts up again!
2) Make Your Kids Feel Included
Feeling that your doubts or fears are not being taken into consideration can make anyone feel badly, no matter the age. Including your children in the conversation will make them feel like they are part of the decision and that they are an equal member of the family. It can also help you reduce temper tantrums and melt downs in the future.
3) Moving is an Adventure
Packing everything up can get quite sentimental. For kids who have spent their entire life in one house, they are quite literally leaving everything they know. A good strategy for helping kids cope with this stress is to keep your enthusiasm level high and to treat moving like an adventure. Make sure to emphasize the exciting parts of the move, such as the bigger back yard, the fun activities the new neighborhood offers, getting to decorate your new room. If you are staying in a hotel for a while, try and keep it light and fun; make sure to enjoy the pool or make a pillow fort or two!
4) Know What to Pack and Where you Packed It
There are certain "favorite" items that can comfort your kids during the big move. Make sure not to pack that special teddy bear or that blanket they love; not only will these things keep them entertained, but having that piece of home with them will also relax them. If you have to pack those sentimental objects, make sure you know where you put them! Clearly labeling your boxes and making a packing list can help you avoid a temper tantrum down the line.
5) Let the Kids be Kids
Sometimes it's just easier to bring in the professional movers and have the kids go on a play date while the grown-ups handle the details. See if you can schedule a trip to grandma's house or a visit to a friend's house ahead of time so that you won't be tied down the day of the move!
When moving with kids in Houston or anywhere use the 5 stress-reducing tips to help turn your move into a great family experience. And when searching for a stress-reducing moving company, use Specialized Movers to help take the worries and hassles out of the process.