Houston commercial moving services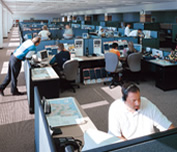 Houston commercial moving services with Specialized Movers gives you a management team that looks at the big picture with attention to detail that adds value while handling all your needs.
Managing transit is a complex undertaking. But we make it simple for you by adhering to the fundamentals of information and service. For the greatest possible efficiency, count on us for the experts and tools that let you see the "big picture."
Our move management processes allow you to zero in on opportunities to improve the quality, service and value you get from your transportation purchases. As a major moving company with a half-century of experience, we bring you a depth of understanding not found outside the transportation arena.
You get access to more productive RFPs, enhanced vendor relationships, carriers that better fit your requirements, accurate quality measurement and recommendations, more effective transit policies, and consistently professional and conscientious customer service.
Between the time you tender an offer of employment and the time an employee's family is successfully relocated, you may have a significant investment in travel. Trust us for an itinerary that makes it easy to get around, and service that conveys the favorable impression you want to make.
With Atlas Travel, you have control over an important part of the relocation process...and your employee has one less thing to worry about.
Considering Houston commercial moving services for a corporate move? Visit our How-To guide on successfully relocating a business.